Welcome to the website of the Chief Executive's office.
It is a great honour and privilege for me to be able to serve the people of Hong Kong as their Chief Executive.
My aim is simple: I want to demonstrate to the people of Hong Kong that I stand ready to act in a timely way for their welfare and interests. I want to nurture a harmonious and inclusive community. Above all, I want to give the people of Hong Kong a government that deserves their trust and support.
This website is just one of the ways that we reach out to the public to explain our policies and decisions. I encourage you to visit this site, and others on the government's web portal, to learn more about how your government operates. We welcome your input and feedback on subjects that are important to you and your families and the future development of Hong Kong.
I believe that together we can make Hong Kong an even greater community than what it is today, truly 'Asia's world city', a city second to none.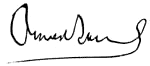 The Honourable
Donald TSANG Yam-kuen,
Chief Executive