The story of an oak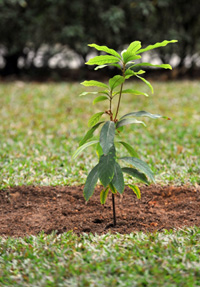 A couple of years ago, I joined more than ten conservationists, including former Chief Secretary Sir David Akers-Jones, in setting up the Hong Kong Countryside Foundation (HKCF) to conserve the countryside while also respecting private property rights. The HKCF logo is an oak tree growing from an acorn with birds flying over it, representing the harmony of a diverse ecosystem.
Soon after the establishment of the HKCF, a member, Mr Ruy Barretto, SC, gave me some acorns and I germinated them with care. This young oak was grown and looked after by Sir David. Yesterday, Sir David, Mr Barretto and I planted the young oak at Fanling Lodge, which will be its permanent home.
The story of this oak, from the germination of the acorn to its growth into a young tree, is about passing on a vision. Similarly, to succeed in protecting the environment in Hong Kong, we need commitment, division of work and collaboration. We need to see Hong Kong as our home and live true to our vision so that our environmental efforts will continue from one generation to the next. This oak tree also signifies our determination to promote environmental protection and conservation in Hong Kong.
My governing team and I will continue to improve Hong Kong's living environment. I invite all members of the public to join us in making Hong Kong a better and more sustainable place to live.
February 4, 2013