Providing decent homes for the elderly
There is a Chinese saying that one should take care of other elders as well as one's own. To achieve social harmony we should respect, love and care for the elderly. In view of Hong Kong's ageing population, I stated in my Manifesto that we should support the elderly in their golden years, make provisions for their daily living and provide them with decent homes. The Senior Citizen Residence Scheme (SEN) of the Hong Kong Housing Society (HKHS) is a perfect example of what I meant by providing a decent home for the elderly.
Hong Kong's success today is built on the hard work of our senior citizens in the past. As they are all members of Hong Kong's big family, it is incumbent upon us to provide them with a cosy nest where they can live a carefree, comfortable and healthy life in their old age.
Yesterday I visited Cheerful Court, a SEN project located in Jordan Valley, East Kowloon, to see for myself this housing estate that has been specially designed for elderly people.
| | | |
| --- | --- | --- |
| | | |
| Elderly residents can work out in the fitness room to keep in shape. | | Facilities for both physical and sedentary activities are provided. Residents can learn painting in the pottery room. |
The moment I stepped into Cheerful Court, I felt as if I were in a well-equipped hotel. The estate provides not only comfortable accommodation but also comprehensive, targeted and thoughtful services for the elderly residents. On the ground to third floors, there are various ancillary facilities which provide for all the basic necessities of life. These facilities include a restaurant, a convenience store, a fitness room, a heated pool, a karaoke room, a library, a pottery room, a hair salon, a polyclinic and a rehabilitative care centre for the elderly. Residents can thus enjoy a variety of services without leaving the estate.
The design of Cheerful Court also takes into account the safety and daily needs of the elderly. Lift lobbies, corridors and bathrooms are all fitted with handrails and non-slip tiles. Lifts are equipped with chairs. Emergency nurse call buttons have been installed in the bedrooms and bathrooms in case the residents need help.
| | | |
| --- | --- | --- |
| | | |
| The rehabilitative care centre provides day and residential healthcare services for the elderly. | | Mr Leung takes on one of the residents at table tennis in the activity room. |
I also visited a couple living in Cheerful Court, Mr and Mrs Lam, to see what they think about the estate. Having returned to Hong Kong after emigrating to the United States, they moved into Cheerful Court two years ago. They were only required to pay an entry contribution of about $500,000 to be granted a lease for life in return. They said that they were happy with everything in the estate, and did not find anything to complain about. Looking at their happy and contented faces, I was convinced that Cheerful Court was as good as its name. Every elderly person I met there was very cheerful and energetic.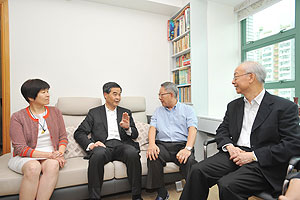 Mr Leung meets Cheerful Court residents Mr and Mrs Lam, who are happy there and find nothing to complain about.
Within 30 years, the number of people aged 65 or above in Hong Kong will surge from 940 000 to 2 560 000. The Government and the whole community must squarely face the challenges associated with our ageing population. One major challenge is to meet the housing needs of elderly people. Building housing estates that provide a one-stop residential service for the elderly, like Cheerful Court, is in line with the Government's policy objective of facilitating ageing in place. According to the HKHS, there are over 300 people on the SEN waiting list, and the estimated waiting time is three to four years. To build more housing estates similar to Cheerful Court for the elderly, what we need most is land. I have always said that there is still a lot of land that can be developed. The question is whether we have the courage to make decisions. If we can identify more sites, we will be capable of dealing with many long-standing problems in Hong Kong, including building more housing units for retirees to meet the demand arising from the ageing population.
Please support the land planning and development efforts of the Government.
Video of the Chief Executive's visit to Cheerful Court
May 28, 2013