Happy Mid-Autumn Festival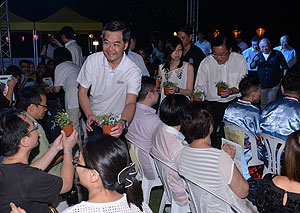 Tomorrow will be the Mid-Autumn Festival, an important occasion for family reunions for Chinese people.
This will be the first Mid-Autumn Festival that I will celebrate with my family at Government House. Last Saturday, my wife Regina, my two daughters and I hosted a Mid-Autumn Festival party here for members of the Hong Chi Gateway Club (HCGC), an organisation serving people with intellectual disabilities, and their parents, as well as client families of the Support Service Centres for Ethnic Minorities under the Home Affairs Department. Also with us were Executive Council Members Mr Cheng Yiu-tong, Mr Andrew Liao, Mr Chow Chung-kong, Mrs Fanny Law, Mr Cheung Chi-kong and Mr Jeffrey Lam. Like a big family, the 80 or so participants had a wonderful time celebrating this joyful festival.
The highlight of the party was a Chinese drum performance by 14 HCGC members. They had spent several months preparing for the performance, from learning the beats to practising the rhythms. Having practised hard, they gave a wonderful performance, playing as one in terms of their movements, rhythm and high spirits. Their unity and team spirit impressed me a lot. This was followed by lively festive shows by Wong Fai Puppet and Shadow Art, a local arts group. These shows gave our ethnic minority guests a taste of traditional Chinese culture.
Since many of the participants were children, I had prepared them two gifts, mimosa plants and crickets, which are both easy to take care of. The children found them very interesting.
The Mid-Autumn Festival is about family. All 7 million people in Hong Kong are one big family. We might have different backgrounds and speak different languages, but as members of this big family, we should support and care about each other. A joy shared is a joy doubled. On this special occasion, I hope that all of you can spend some time with your families and cherish their company. I also wish all 7 million people in Hong Kong a warm and happy Mid-Autumn Festival together.
September 18, 2013