Luncheons with foreign chambers of commerce
The current-term Government strives to promote economic development and achieve economic growth so that the Government, employers and the community as a whole will have the capacity to tackle social problems such as housing and poverty. As Hong Kong is an externally oriented economy, it is imperative for us to forge closer links with the international community as well as other parts of our country. Besides conducting duty visits outside Hong Kong, I have also spent quite a lot of time here meeting with the local business and professional sectors to listen to their views on how the Government can better assist them in their business.
Yesterday, I hosted a luncheon at Government House for representatives of the Korean Chamber of Commerce in Hong Kong, during which we exchanged views on economic and trade relations between Hong Kong and Korea.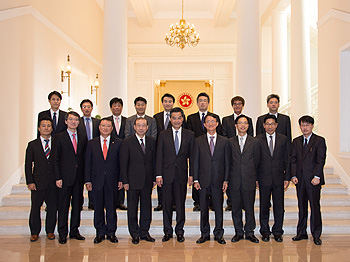 Over the past few months, I also hosted luncheons at Government House for representatives of chambers of commerce of other countries, including the UK, the US, Japan, Australia and India. In a convivial atmosphere, we talked about how overseas enterprises can use Hong Kong as a springboard for entering the Mainland market, which would in turn promote Hong Kong's economic growth, thus achieving a win-win situation.
In future, I will continue to make good use of my lunchtime to meet with members of foreign chambers of commerce to explore ways to boost the sustainable development of our economy.
December 3, 2013