Financial development
Today, I hosted a luncheon at Government House for members of the Financial Services Development Council (FSDC) to thank them for their dedicated efforts over the past year. Before that, I attended their meeting this morning to listen to their views on how to reinforce and enhance Hong Kong's status as an international financial centre and support the further development of our financial services.
Composed of leaders of their respective fields in the financial services sector, the FSDC has, in just 10 months, completed comprehensive and in-depth research after consulting the industry and submitted its first batch of six research reports, which set out constructive recommendations on the strategic development of Hong Kong's financial services industry.
Although from time to time there are voices in the community claiming that Hong Kong's development has come to a bottleneck, our business sector and visitors from other places hold the opinion that Hong Kong is full of opportunities and remains very competitive. Take our financial services for example. Many FSDC members have made it clear that there are innumerable opportunities for our financial services sectors and that Renminbi-related business alone can go a long way.
The Hong Kong Special Administrative Region Government and related regulators will carefully study the FSDC's reports and implement their recommendations as soon as possible to promote Hong Kong's economic and financial services development.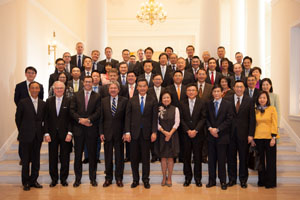 December 5, 2013