Providing adequate housing for all
Christmas is just around the corner. When celebrating this joyful season, have you ever thought of what happened in the Shek Kip Mei squatter area on Christmas night 60 years ago in 1953? That night, a tragic fire left over 50 000 people homeless. Hungry and cold, they wailed in desperation. One can't help but feel sad at the thought of it. To accommodate the residents affected, the Government constructed H-type resettlement blocks on the original site, thus forming the Shek Kip Mei Resettlement Area (now Shek Kip Mei Estate, which includes Mei Ho House, the block that has been newly converted into a youth hostel and that I visited earlier today). That marked the beginning of the construction of public housing by the Government. Against this background, the former Housing Authority was established to take charge of the development of public housing. Time flies, and public housing in Hong Kong already has a history of 60 years and the present Housing Authority has been in existence for 40 years. After 60 years of hard effort we now have over 2 million people living in about 730 000 public rental housing (PRH) units and over 1.11 million people from about 357 000 households living in subsidised sale flats, all built by the Housing Authority.
About 3.11 million people, or nearly half of Hong Kong's population, are accommodated in housing units built by the Government. How did we achieve this? There were no methods other than clearance and rehousing. The Government progressively resettled the occupants of hillside and rooftop squatter huts to public housing estates so as to significantly improve their living conditions. Didn't these people raise any objections to being resettled in public housing estates located in, at that time, remote areas? Older people in Hong Kong must have heard of the Squatter Control Unit, which had the unenviable task of clearing squatter huts. Their operations were often met with resistance from the residents affected. Such resistance took many forms. Some people threatened to hurt themselves with knives, others threatened to throw kerosene or set off explosions with LPG cylinders, while some actually poured sewage on the clearance staff. Apart from the clearance of squatter huts, the removal of structures on the rooftop of Kingland Apartments in 1995 also sparked protests, with residents and social workers blocking Garden Road, causing a serious traffic jam in the Mid-levels. Besides clearance operations, the "well-off tenant" policy implemented by the Government also caused a drastic reaction among PRH residents, with their representatives blocking a road and paralysing traffic in the district.
Over the past 60 years the officials and officers responsible for housing have faced all kinds of resistance. Their working lives have never been peaceful or easy, but they have not flinched in the face of difficulties, cowered in the face of insults or doubted themselves in the face of verbal abuse. Holding fast to their vision, they overcame many difficulties and completed many clearance and rehousing projects. Thanks to their untiring efforts in identifying sites for public housing, numerous people have been able to move into public housing units and have had their living conditions upgraded.
Is it now more difficult to address the housing problem, resume land and conduct clearance operations? The answer is no. So, what are we afraid of? We are afraid of nothing but a weakened commitment to tackling the problems. We are afraid of more talk but less action.
As long as we stand together to solve these problems as early as possible, the grassroots and the whole community of Hong Kong will stand to benefit. If the people of Hong Kong had been indecisive and trapped in inaction in the past for lack of courage, would half of our population be living in public housing now? Those people affected by the Shek Kip Mei fire might still be shivering in the cold on Christmas night, and some might still be living in old buildings without flushing toilets.
One lesson that we can learn from what has happened in the past 60 years is that people working for the public must have the strength to face challenges. If the Government does too little in its efforts to provide enough public housing to meet demand, it will be the people of Hong Kong who will suffer.
Providing adequate housing for all in Hong Kong is indeed a tall order, but it is one that we can meet as long as we work together.
Lastly, I wish you all a merry Christmas. I especially wish that those people who have to spend the cold winter in tiny dwellings and are eager to move into public housing will have a comfortable home very soon.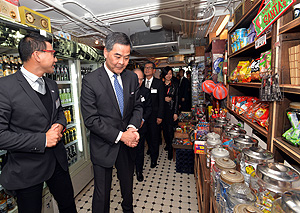 December 20, 2013