How far will you go for your dream? Coffee time with young people last weekend
Thanks to the Hong Kong Federation of Youth Groups, I enjoyed a gathering with eight young people last weekend to listen to their views and suggestions, which gave me a lot of food for thought in preparing the coming Policy Address. The positive energy and thinking of these young people reflected Hong Kong's can-do spirit and made our coffee time particularly meaningful.
These eight young people were quite different in age and background. They included secondary school students thinking about what subjects to take or how to cover overseas education expenses, an entrepreneur who has successfully established an IT company with 300 employees, a registered Chinese medicine practitioner who owns three clinics and two other young people who devote themselves to creative industries or care about recycling.
These young people suggested that I promote creativity more vigorously to make the whole community creative. They also hoped that I would endeavour to promote IT. I told them that right after my election as Chief Executive, I proposed to set up a Culture Bureau and a Technology and Communications Bureau, which could have exactly answered their requests, but unfortunately the proposals were shelved as a result of filibusters launched by individual members of the Legislative Council.
Worrying about overseas education expenses amounting to HK$600,000 a year, one of the students expressed her hope that the Government would establish a financial assistance scheme for students studying abroad. I encouraged her not to easily give up studying overseas by sharing with her my experience. Many years ago, with just enough money to support myself for one year and a one-way air ticket, I flew to the UK and studied there for three years. To save money I walked to college every day, which took me 55 minutes. It was by no means an enjoyable experience, walking against chilly winds in the UK's wet and cold weather. I also had to work part-time three days a week in a restaurant. I felt bitter at times, but in retrospect, I now find those days sweet and precious because studying abroad helped me to broaden my horizons.
The exchange of views with these young people reminded me just how meaningful my job is. Professor Lui Tai-lok has raised the idea of "four generations of Hong Kong people". I always appeal to Hong Kong people to seek intergenerational co-operation. We should lay a solid foundation and provide a wider playing field for our next generation to display their full potential. I will bear this in mind while preparing the Policy Address during the Christmas holidays.
To encourage our young people, let me quote a famous line from a film which has been very popular recently: "How far will you go for your dream?"
Video of the Chief Executive meeting young people at coffee time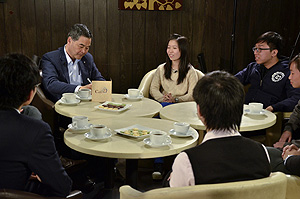 December 23, 2013