Two theatres, a Huangmei opera and an actress
My parents came to Hong Kong from Shandong before World War II. Although they lived here most of their lives, they always kept their old hobbies and habits from northern China.
When I was small, we didn't have a television. Going to the movies was a special treat, a luxury that we could afford just three to five times a year. My parents only watched Mandarin movies and were particularly fond of Huangmei opera movies.
I liked going to the cinema with my whole family, except that at that time I didn't know enough Mandarin to understand what the actors said or sang about in the movies. To encourage me to watch Huangmei opera movies with them, my parents would buy me a tiny pet - a silkworm wrapped in a mulberry leaf.
When I was at primary school I lived with my family in the police quarters at Western Street, Sai Ying Pun. Near the upper end of this steep street was Ray Theatre. I vaguely remember watching a number of Huangmei opera movies there, including The Love Eterne, The Kingdom and the Beauty and A Dream of Red Mansions.
Over the past 10 years or so I have read Taiwan newspapers almost every day. Two years ago, I read an article in one of these newspapers about a stage production of the Huangmei opera The Love Eterne in Taiwan, featuring Ms Ivy Ling Po and Ms Hu Chin. This reminded me of the days when I used to go to the movies with my parents. I thought to myself that if my parents were still alive, I would certainly buy air tickets and take them to Taiwan to watch Ms Ling's performance, because both my parents had been her fans.
Last night, Ms Ling and Ms Hu staged The Love Eterne at Sunbeam Theatre in North Point, so I took my wife and daughters to watch the performance. Listening to the old tunes with my own family in Sunbeam Theatre, which has been saved for the time being, I thought of my late parents and Ray Theatre, which was demolished long ago. At that moment, the two worlds seemed to merge into one.
I am glad that I have done something to help save Sunbeam Theatre. I am also grateful to Ms Ling and Ms Hu for bringing a glimpse of China's diverse culture to Hong Kong.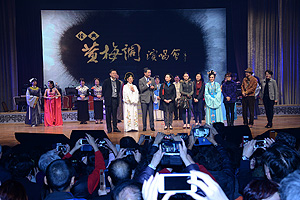 January 4, 2014