Sharing festive food to celebrate the Year of the Horse
The coming Lunar New Year will be my second to celebrate after taking office as the Chief Executive. Just as we did last year, my wife and I followed the established practice of making a video to send Lunar New Year greetings to the public. When conceiving the content of this video, my colleagues suggested that I adopt a "realist" approach to convey a meaningful message to the public in addition to offering them our blessings.
When I was a child, the happiest thing about the Lunar New Year was that I could taste all kinds of delicious festive food. I know that there are some organisations in society that recycle food by collecting unsold or donated food and then give it to people in need. While helping people, this can also avoid wasting food. So I decided to use sharing as the theme of the video.

With the assistance of some voluntary agencies, my wife and I went into a community kitchen to join other volunteers in preparing turnip cake, a traditional festive food, using turnip and other ingredients collected from elsewhere. We then took the cakes to a community centre to share them with some elderly persons in an early celebration of the Lunar New Year. My wife and I so enjoyed chatting with these "elder brothers and sisters" over lunch that we totally forgot that the camera was on.

| | | |
| --- | --- | --- |
| | | |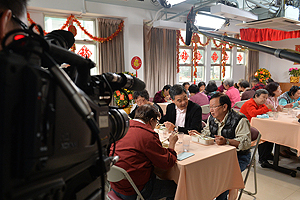 The shooting went smoothly, and we were entirely at ease. As I was not required to act, I could fully enjoy the cooking and sharing processes. I would like to take this opportunity to thank all voluntary agencies and volunteers, whose selfless efforts have helped ensure that people get the help they need and made Hong Kong a warmer place to live in.
As we celebrate this joyful occasion with our families and friends, I hope all of you will share the good things that you have with those in need so that this big family of 7 million people will be filled with love and warmth.
January 30, 2014