Paula Tsui's concert
Last night, my wife and I went to Paula Tsui's concert at the Hong Kong Coliseum. We also invited some friends to come along, including Mr Tung Chee Hwa, former Chief Executive of the Hong Kong Special Administrative Region and Vice Chairman of the National Committee of the Chinese People's Political Consultative Conference, and his wife.
Paula and I got to know each other in 1988. At that time, I was Secretary-General of the Basic Law Consultative Committee, and needed to promote the consultation draft of the Basic Law. Miss Leonie Ki, an outstanding advertising professional, volunteered to plan the whole promotional campaign, including the TV announcements. She invited Paula to sing a promotional song, and Paula agreed right away to do it for free. The two ladies worked together to produce remarkable results.
In the blink of an eye, 20 years or so have passed and Hong Kong has returned to the Motherland for 17 years now. Singing to a full house last night, Paula was as glamorous as always.
Her beautiful voice took me on a trip down memory lane. As we were able to complete the drafting of the Basic Law in the 1980s and return to the Motherland smoothly in 1997, we should certainly be able to implement universal suffrage.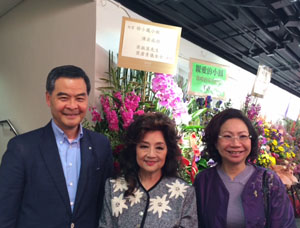 March 1, 2014