Mainland internships offer Hong Kong students opportunity to pursue their dreams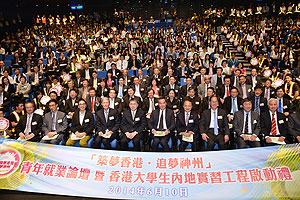 Today, I attended a youth employment forum cum launch ceremony of Mainland internship projects for local university students to give my support. Last year, the Home Affairs Bureau and the Commission on Youth introduced the dedicated Funding Scheme for Youth Internship in the Mainland to encourage community organisations to provide more Mainland internship opportunities for young locals. Through participation in such projects, our young people can gain personal experience of the actual workplace environment in the Mainland and obtain a deeper understanding of the employment market, work culture and development opportunities there. The work experience thus gained can greatly enhance their personal competitiveness in finding employment. The Scheme has been well received and about $24 million has been allocated so far to support 38 Mainland internship projects, benefiting about 1 700 students.
In Hong Kong, more and more young people receive tertiary education. I disagree with the notion suggested by some that the Government should reduce the number of university places. I think that we should create more employment and career development opportunities for our young people. Hong Kong is a small place with a land area of only 1 100 square kilometres. To seek opportunities, we must look and go beyond the territory. As our largest trading partner, the Mainland of China warrants the attention of the Government as well as that of the industrial, commercial and professional sectors and the public of Hong Kong. I believe that if our young people seize the opportunities in the Mainland and overseas, they can go far in their careers.
Today, a student shared her experience of participating in a project funded by the Scheme. She said that Mainland students were envious of their peers in Hong Kong because even the students of top Mainland universities might not have such opportunities to take up internships at large state-owned enterprises. Indeed, it would not have been possible for our internship projects to make these arrangements without the full support of the Central Government. This again demonstrates that the Central Government cares about Hong Kong, especially our young people.
I sincerely hope that our students will cherish this opportunity to gain valuable working experience in the Mainland. Not only will it be useful for their future careers on both sides of the boundary, but it will also be a memorable experience in their lives.
June 10, 2014