Planting mission at Government House
In a recent movie called "The Martian", astronaut and botanist Mark Watney sustains his life in the impossible environment of Mars by planting potatoes using water he creates and organic fertiliser. The story is of course fiction, but it inspires us to be creative.
Although I am not a botanist and Government House is nothing like the extreme environment of Mars, I choose to do organic farming here in an environmentally friendly manner. I use a wood chipper to cut fallen leaves and other yard waste from the garden into chips for composting. I also bury dried food waste in the garden. These measures, together with recycling of paper, plastic bottles and aluminium cans, significantly reduce the amount of waste to be sent to landfills. In addition, the homemade compost makes our plants and trees healthy.
Tomorrow is Government House's open day. The horticulture team and other colleagues are busy making preparations. I will put some potted plants that I am growing, including okra, maize, pitaya (dragon fruit) and lemon, on display for visitors to see.
As in previous years, we held a preview today ahead of the open day. About 500 people, comprising students from special schools and their parents, as well as teachers and other staff members of the schools, were invited to have a tour of Government House in advance.
Life is full of stress in Hong Kong. Growing plants is an effective way to wind down. You don't have to be a botanist to start this hobby. You can learn along the way and derive immense pleasure in the process. You will be endlessly fascinated to see a plant budding, growing, blossoming and then bearing fruits.
I hope the Government House's greening efforts can inspire you to adopt a greener life.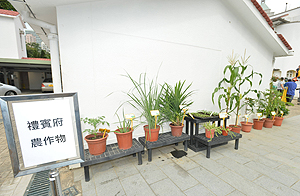 Some plants that I grow, including okra, maize, pitaya (dragon fruit) and lemon, will be on display at Government House on its open day tomorrow.

November 7, 2015