Mr TANG Ping-keung, GBS, PDSM, JP, Secretary for Security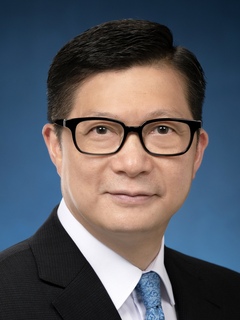 Mr Tang has been Secretary for Security since June 2021.
He joined the Hong Kong Police Force as an Inspector in 1987 and was appointed as Commissioner of Police in 2019. Mr Tang has received training at various Mainland and overseas institutions, including China Executive Leadership Academy in Pudong, Shanghai; Royal College of Defence Studies, London; and Chinese Academy of Governance, Beijing. Mr Tang holds a Bachelor's degree in Social Science, a Master's degree in Business Administration and a Master's degree in International Security and Strategy.